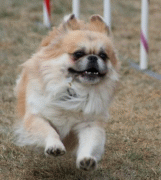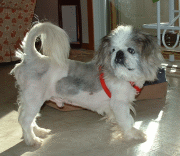 Success Stories
---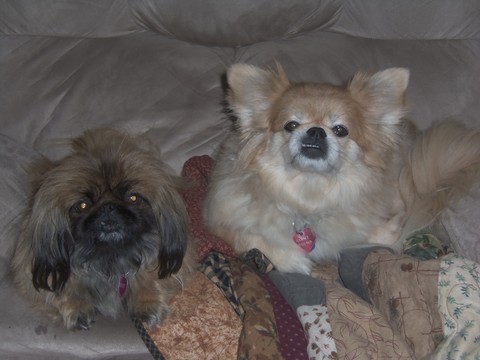 Dear Mary,

Hope this finds you doing well. Just wanted to give you an update on Miss Cece and how she is faring. We have had her for almost 2 months and she is such a joy! At the end of March, she finally had her dental work done. It was postponed a couple times due to weather. : ( She had quite a few abscessed teeth and ended up having 9 teeth pulled. Poor girl! She was a trooper and healed just fine. On March 26, she went again to our vet and received a clean bill of health...probably for the first time ever for her! Our intensive ear regimen worked and her ears are clear, coat is full and teeth are now healthy and clean. Her incision is completely healed.

Cece loves loves loves to play! You can tell she feels better. She now loves to walk on her leash, especially when it's with her fur-sister, Sammy. They get along quite well, too. Cece still loves to cuddle when play time is over. Eating is still a priority for her : ) but we have her on a diet and she is doing well. When the weather finally gets nice out, we will go for longer and more frequent walks. She barks some and play-growls with the kids when they play.

All in all, she is a perfect fit for us and we are so glad to have her. She will spend the rest of her life getting absolutely spoiled, just as she deserves. Thanks for all you do!

Deb Jones
---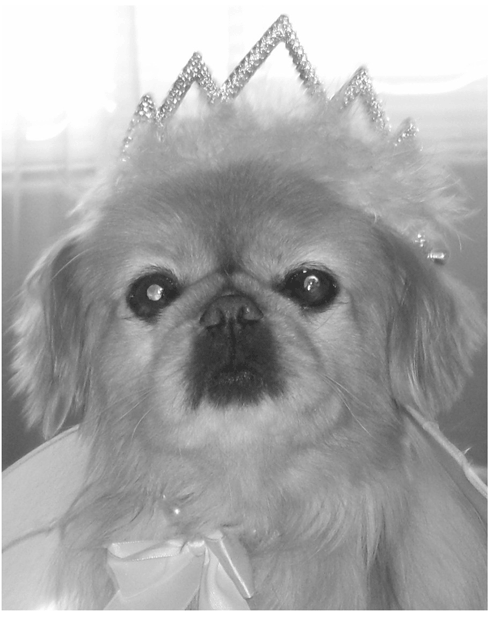 My name is Muffin. I am a former puppy mill breeder who was rescued by the wonderful people at PNC. In the spring of 2010 they found me my forever home. I live with my mom and the nincompups, my adopted sisters, Gidget and Lily. They are also retired puppy mill breeders, and I have to give mom lots and lots of credit for adopting them because they are, well, complete nincompups. We live in a very small, pretty boring little town. I have a pet bunny named Nicholas. Trixie Koontz is my hero."
XOXO
Muffin
---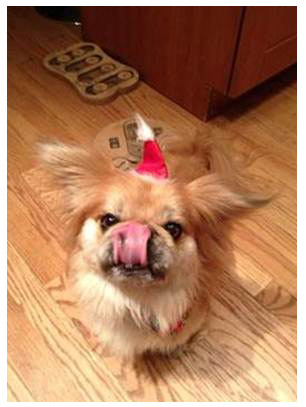 Hi! Just wanted to give you an update on Barney (Scrumpy). He's doing well, is happy, active, and getting plenty of baths! He and brother Jaybird are getting along quite well. Happy new year!
Amy E. Keller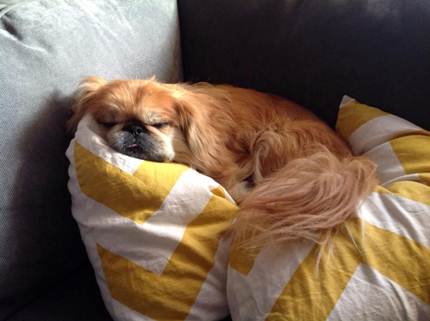 ---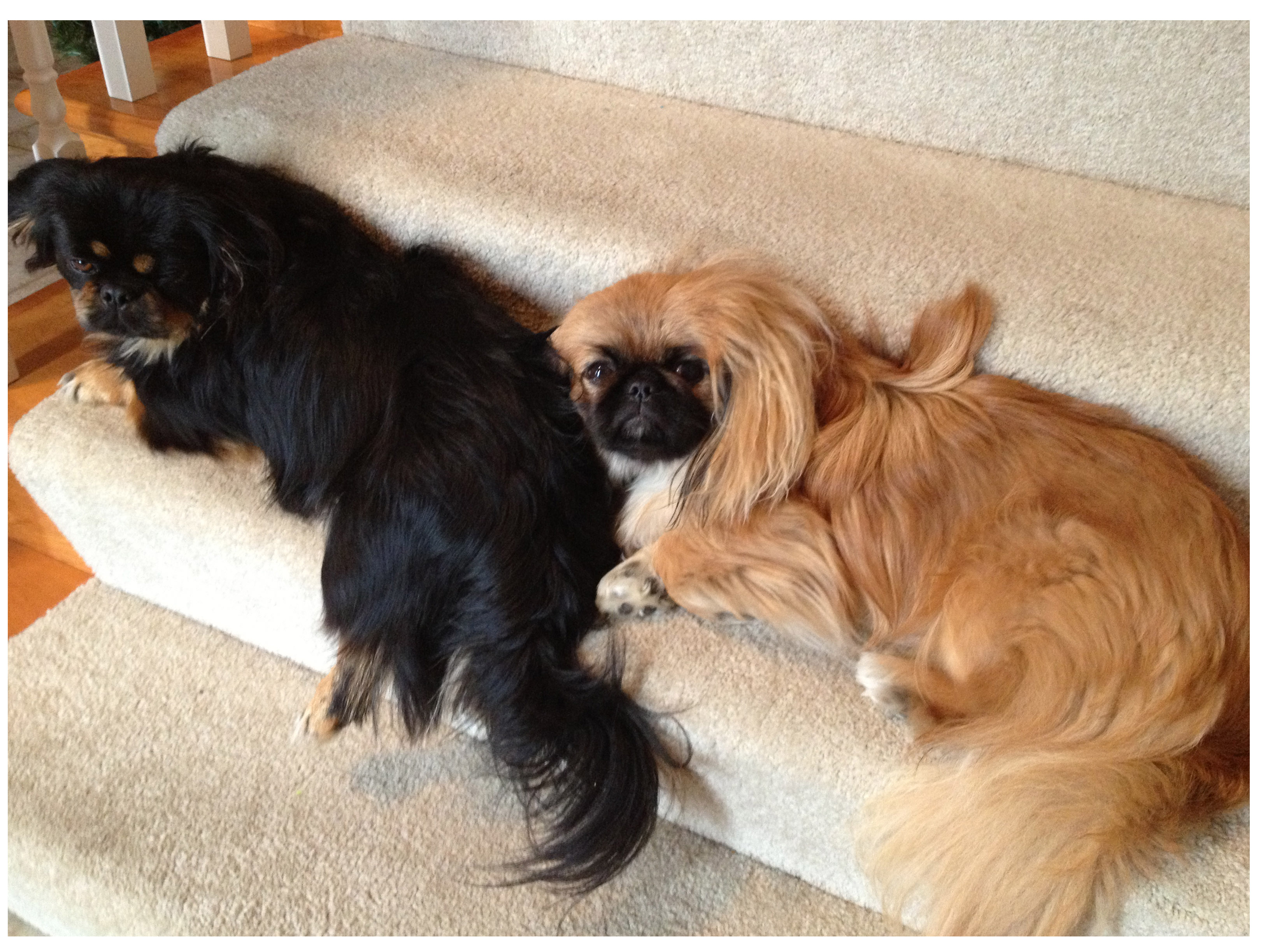 I understand it's your birthday today, Heidi! Have a great day.....from Guinness and Buddy (who are much more excited about your big day than they look)

--Dan Deuel

---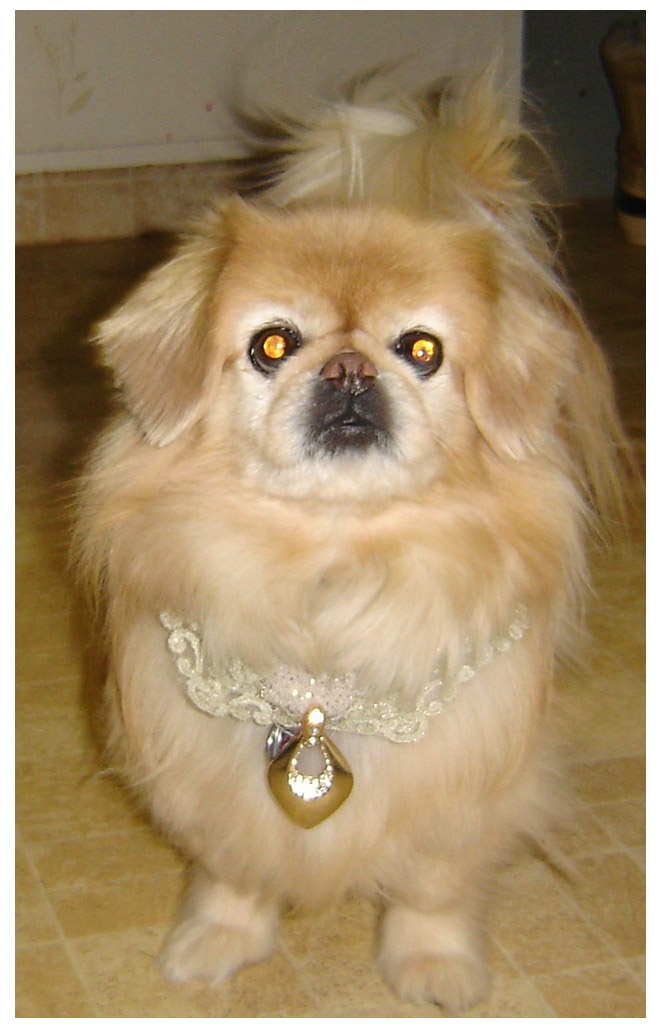 Hi Heidi, Thought you might enjoy these pictures of Muffin. "Muffin" and "Misty", supposed sisters from the mill rescue they were from, have been "keeping in touch". Ahem. Well you know what I mean. f Anyway we (Misty and I) sent Muffin some home-made necklace/colars for Christmas. Here she is modeling them. Lots of fun!!
Ann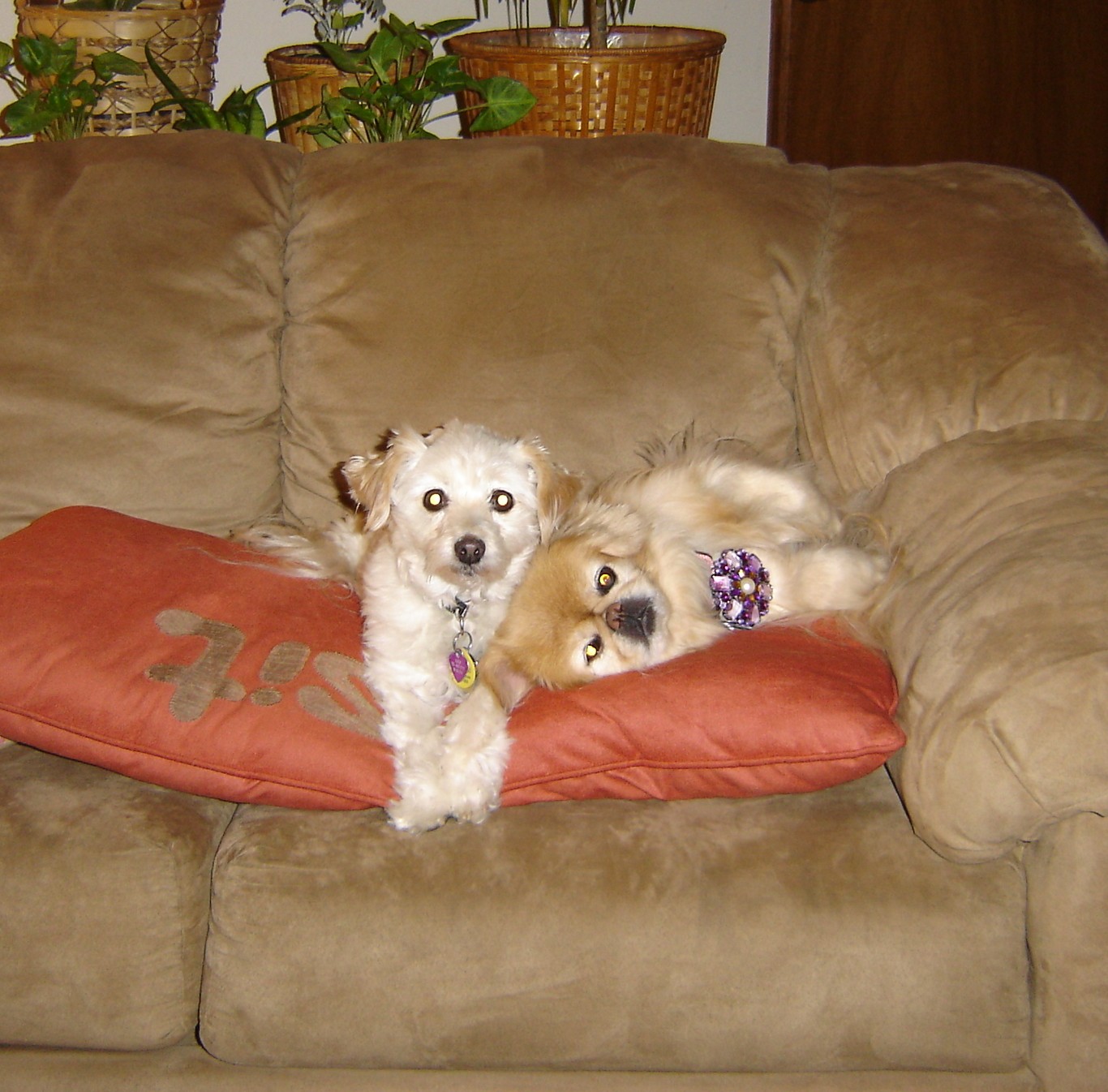 ---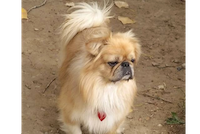 Hi Heidi, I just wanted to thank you so much for Norton. He's everything I could've asked for - sweet, sassy, and just perfect. He fits in so well with the rest of my dogs and my cats adore him. I really appreciate everything you and your rescue do for the animals. You guys are AMAZING!
Thanks again, Jenny
---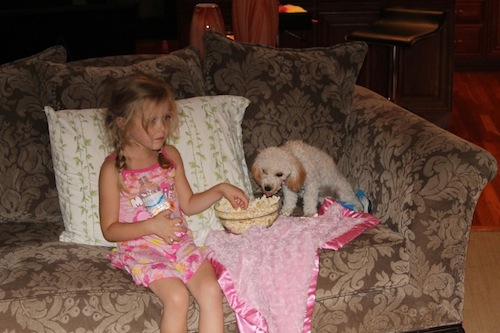 Hi Heidi, just wanted to give you an update on sweet Dori. She is doing great! I don't think you would know it's the same dog! she plays with toys and is into everything but it is awesome to see! She put on some weight and her hair grew out so adorable. Jason takes her to work every day so she is quite the daddy's girl! We are still working on her manners around strangers and would love it if we could figure out how to socialize her with other dogs. Until then we will continue to love her and spoil her because we couldn't imagine life without her! Hope you are well.

Heidi(:
---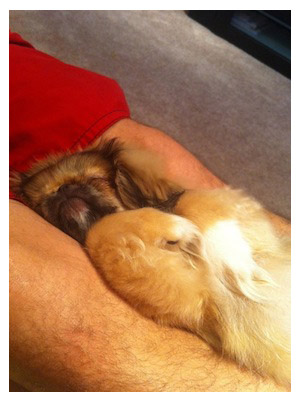 Hi Heidi, Things are going really well with Ruby. We LOVE her!!! She an awesome pet!!! SO sweet!!! Everyone loves her as much as we do. Here's a pic I took of her yesterday sleeping on my husbands legs. :) Thanks for your help Heidi. Have a great day!!!!!
---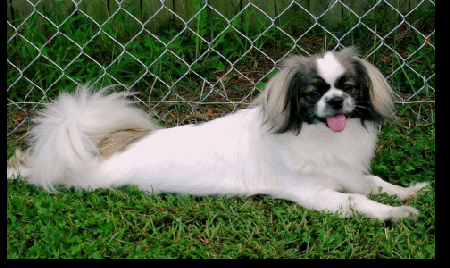 I adopted Twyla, a Tibetan Spaniel, in September 2011. Since I live in Delaware, a long way from Minnesota, the good people at Peke N Chin Midwest brought Twyla and another Tibbie, being adopted by a lady from Buffalo, all the way to Ohio. Twyla hitched a ride with the lady from Buffalo until a friend of mine picked her up in Northeastern Pennsylvania and brought her south where, at last, I was able to hold her in my arms. Despite passing from one stranger to another on the long journey to the east coast, she settled into her new home like she'd been born here. Although her new Tibbie sister, Coco, was a bit jealous, Twyla gave way and let Coco rule the "attitude". (That's what we call a Tibbie group - like a pride of lions, a gaggle of geese, a pod of whales, and so on - it's an attitude of Tibbies.) Soon, Twyla and Coco were good friends - kissing one another's ears as Tibbies do to show affection.

Twyla is also an affectionate sister to her very elderly brother, Danny, another rescue who is almost blind and deaf. Recently, another rescued Tibbie joined our little attitude. The new girl, Suzy, is completely blind. Because she has no vision, Suzy can get a little upset when jostled by the other dogs as they romp around. Ever the peacemaker, Twyla runs over and kisses everyone until they make up and settle down. When I come home from work, she smiles, dances and says "roo-roo-roo" that's her bark of happiness. She loves to race flat out with Coco, and she's lightning fast. But she soon comes back to me - never more than three feet away - and adores being picked up for a long cuddle. When she wants more attention, she gives me demure little kisses on my ankles or calves. She is uncharacteristically obedient for a Tibbie - all sweetness, serenity and - as you can see from the photo - simply beautiful.

Thank you Peke N Chin Midwest for saving my Twy-licious Freckle Face from a miserable life in a puppy mill.

Susan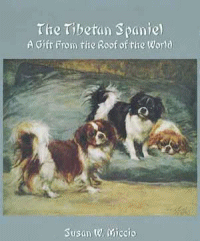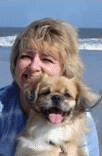 Susan Miccio's two great passions are Tibbies and writing, so it was only logical for her to decide to write about Tibbies. She considers The Tibetan Spaniel: A Gift from the Roof of the World, which took four years to research and write, to be the best contribution she could make to her beloved breed. You can find and even purchase this book through Susan's website.
---

Thought you might like to see a photo of Willow in her new home. She's settling in and doing really well. She's such a good puppy! Thank you for helping us out with getting her!

Karen
---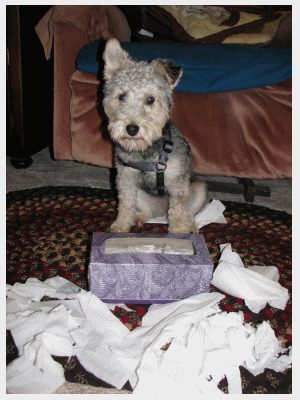 Hello. Callista loves to go on walks and loves to play, play, play! She did well with Sally and Al, and they fell in love with her. She eats her food so fast we now put a golf ball in the bowl to slow her down. She has run out the back door twice so we keep a close watch when either one of us is going out. She is so special. She loves to sit on our laps and give kisses. We really love her. Thank you so much. Please let Katy know how well she is doing. On Wednesday we begin Obedience Training at Animal Inn. We will let you know how well that goes.

Thanks for all of the love you gave to Callista. She really enjoys snuggling.

Denny and Carol
---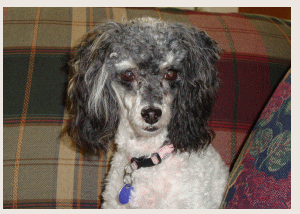 We are getting along quite well with Liesl. We love her dearly. We got her clipped 1 1/2 weeks ago. She was a little too short, but is growing out now. She is a little trooper on our walks and prances along so good. She loves to run and I love watching her run. I took this picture of her tonight when she was sitting in my computer chair. Just wanted to let you know things are going well -not perfect - but quite well. She is slowly getting over her shyness but is still frightened of noises and sudden movements. Gracie loves to chase her up the stairs and down again. I think soon Liesl will take a stand and run after Gracie. Thanks for everything.

Barb
---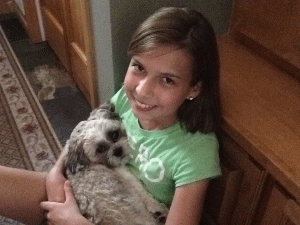 Thank you, thank you! We are in love with our new puppy, Molly! She is the sweetest puppy and such a blessed addition to our family. Our kids, Bridget (14) and Brian (12) are thoroughly enjoying taking care of and loving her.

In the 2 weeks since we brought her home, she has adapted very well to our home. We haven't had a single potty accident in the house. She loves her kennel, and is a lover and kisser! She can sit and heel very well. She waits patiently for her food until we give her the OK to run to her bowl. She waits for us to lead her in and out the door to go outside. We are working on 'come' and teaching the boundaries of our yard. She is a very fast learner!

We just wanted you to know how much we are enjoying her. She loves the neighbors and the neighbor kids love her too. My Brian said yesterday that Molly is so cute he almost can't stand it! Love it. My mom (Molly's grandma) called today to offer her puppy-sitting services.

We prayed and patiently waited for just the right dog for our family, and we found Molly through your website. We look forward to celebrating her birthday in November and including her in our Christmas picture this December.



Martha, Ken, Bridget, and Brian
---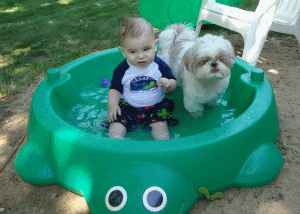 It's me, Finn! More properly named Finnegan Oliver after I was adopted 2 1/2 years ago. I came to the rescue from a Mennonite puppy mill with my brother, Fritz. Sometimes my parents wonder what happened to my brother. I hope he's living the good life like I have been.

In rescue, I was the Shih Tzu with the pretty green eyes. Probably why I was given an Irish name. Well, I do have something in common with the Irish because I got their luck with my life now. I went from living in really bad puppy mill conditions, to an apartment, and finally a nice house, with so much room for me to play and sleep! I even took it upon myself to start Finnegan Neighborhood Watch and keep track of ALL traffic, people and animals (especially the squirrels... can't be trusted!) that come down my block. I regret to inform you that I no longer have my green eyes though. They changed color to hazel, but you still won't hear me singing any Kelly Clarkson.

Oh yeah, and get this...now I have a little brother to look after. He just turned one today! He thinks I am the coolest, and I'm pretty fond of him myself. We share everything and play all day long. Sometimes I can't wait for him to take a nap so I can get one in too. Mom and Dad can't wait for my brother to graduate to a toddler bed, then I'll be able to sleep in his room and hog the bed like I do now with them! I'm sending you a picture of the two of us, and how we spent one of the recent crazy hot days here in WI.



Take care, Finnegan Oliver Wilson.
---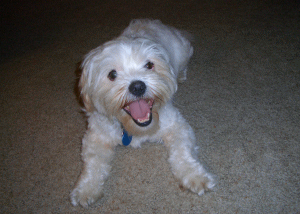 Buddy is doing extremely well. He has been so good since day one. He is obedient to the command 'sit' and 'stay' for his food, treats, and going outside the door. We never taught him. He must have been taught at some time. He isn't much for playing with toys unless it has a treat in it, but he does 'talk' when he wants to go outside or is hungry. I have him on Taste of the Wild - Bison Formula and I add a few spoons of SoJo's Beef. He eats well. He sleeps all night on the floor by our bed, on the cedar chest at the end of our bed, or in the bed we bought for him. He has been good with the 2 cats in the house and very well with our neighbor's dogs. In fact, we can take walks with them (our Lucy would go berserk at them). He does very well at bath time and his hair has grown out some and looks very nice. He is very happy and content.

We are so blessed by him. He has been the perfect comfort to us in our loss of our dear Lucy. I would encourage anyone who has lost a dear pet to share their love with a rescue dog that needs a good home. So again, I thank you for being willing to take him in, care for him, and posting him on Petfinder so we could make the connection. I hope this encourages you to keep doing the work you are doing.

May God Bless you.

Jeanette
---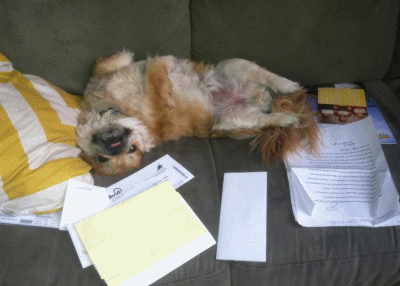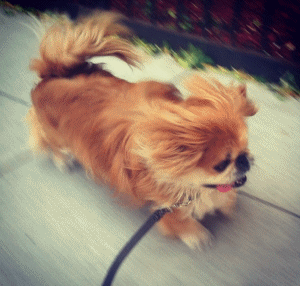 Barney is really good at helping us sort the mail, but not too fond of thunder. He immediately buried his head under a pillow after I took that photo. Also attached is a photo of Barney running on one of his walks defore he got his summer 'do'. He is such a majestic lion.

All is well over here. Hope you guys are doing well too!



Amy
---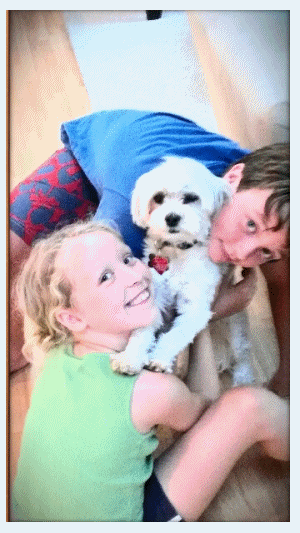 I wanted to thank you and let you know that Murphey seems to be fitting in beautifully. As we expected, he and Maya have become inseparable. In fact, last weekend Maya slept at a neighbor's house and Murph and I walked her over there. When Maya said goodbye and closed the door, Murphy locked his legs and would not budge. I had to pick him up and carry him home. Similarly in the mornings, he won't go on a walk unless Maya comes along. It's very sweet, and Maya is ecstatic.

Please pass along our thanks to Cheryl (foster mom) and let her know all is well.



Bruce
---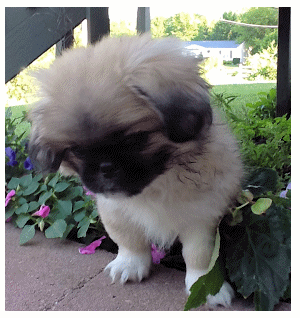 Willis is the most action-packed Peke I have ever had. He is a riot. Ranger has learned to love him and I do believe Ranger has dropped a few pounds keeping up with him.

Thanks for all you do. We sure love our new puppy.



Tammy
---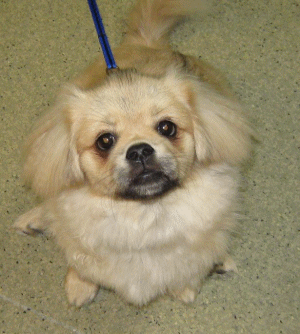 Quinn is doing very well here and adjusting nicely. Yes, there are some puppy stories but, all in all, he is very good. He unrolled all the toilet paper one night and when I got home, John was saying, "You will see what he did." And I did! Was too cute to say anything to him, especially after he laid down on top of all the unrolled toilet paper and looked at me like, "What?" When I come home from work, Quinn meets me at the door and is just so happy to see me. Makes me feel happy. I have a couple of times called him "Eldi", our other dog's name but that should get better over time.

Speaking of names, we are going to keep Quinn as a name because you named him after your cousin, but wanted to add another first name. We had ran across a couple of Tibetan Spaniels and their names were Kippu and Tashi, which is 'Lucky' and 'Happy' in Tibetan. We thought that would be good, and John is set on giving him a Tibetan name, so he is a two-name dog! We are going to name him Kipu or Kippu - not sure how spelled and pronounced - and then Quinn!

Please tell his foster parents that he is doing good, and thank you for helping with him until he could get adopted.

Today he went to the doctor for his first visit and all is well. I gave them all the information I had along with the vet's he previously went to, they faxed their information to them as well. They thought he was just so cute!

I joined PNC Facebook and on my Facebook page you will see a picture of Quinn. I tried to post a picture on your Facebook page but not sure it went through. Attached is the picture taken today at his vet's visit!



Gloria
---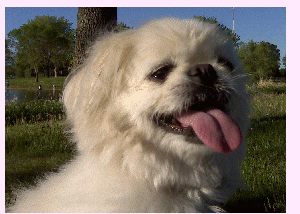 I adopted Snickers from Peke N Chin Midwest almost six years ago. She had been rescued from a puppy mill in Missouri and had found her way to Minnesota. She has grown from a shy, scared little girl to a frisky, playful and loving companion. Here she is at a picnic in the park. She brings calm and laughter to my crazy days and reminds me daily how unconditional her love is. She is almost 12 now and still runs to greet me when she hears the door open.



Essie
---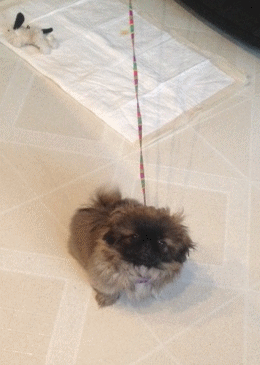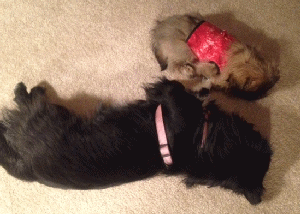 Just an update on Ms. Mim. She and Molly are best friends and she loves people too. The other night Molly was sleeping on the floor in front of my recliner. Mim came up to her, sat herself down right in front of her face and proceeded to lick Molly's face all over. Molly didn't even wake up.

Another thing Mim does faithfully every night is at 10:30 p.m. right after the news, she trots off to the computer room where she has her bed, water, food and potty pad for night. She crawls right into her bed. Frank or I follow and cover her up with her blanket and she goes right to sleep. Stays there all night and gets up at 8:00 a.m. I am not kidding. She is a real personality. Love her so much. She gives kisses on request, high fives and sits, stays and is always wherever Frank and I are in the house. What a companion and friend she is!

Thank you,

Renee
---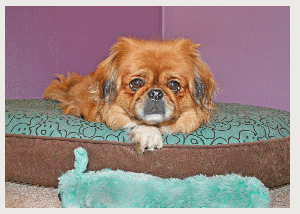 Hello! I wanted to send an update for Captain (formerly Ben)! He is doing GREAT! I adore him.

He is still getting along great with Bugsy and Comet (his two BIGGER 'brothers') and has even cuddled with each of my two cats at one point or another! The cat cuddling is a first! My cats have never relaxed and slept while touching a dog before! Amazing!

Captain and I have a walk together just the two of us every evening. All three of the dogs enjoy playing together, and chewing on bones in the yard, each respecting the others space while eating. Captain had no trouble learning where to "go" while adapting to his new home. He has his own crate with a bed inside, he goes in easily, but he is so well behaved he is almost never crated anyway.

Captain wins over everyone he meets, and I can't help but smile when we go on our walks together. He is just such a silly guy. All around an awesome addition to my pack. Thank again Peke N Chin!



Jeni - Bugsy, Comet and Captain
---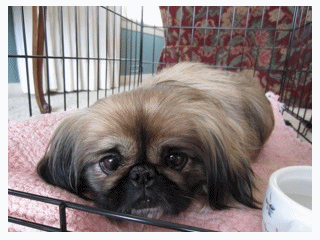 Just want to let you know that Charlie is doing great. He follows me everywhere and I went to Petco and got him a kennel which he slept in last night. I still want to give the cats time to get used to him as he certainly doesn't seem to have any interest in them as you had said. The only thing funny is that he is really protective of his leather chews and sent one cat flying with a bark when it got too near it. Charlie had a bath last night and tolerated it very well. He has a new cushy bed and name tag and toys. He is so sweet! Thank you again for all your trouble getting him to me. I appreciate all you did for this little guy.



Thank You, Sincerely, Mary Jo
---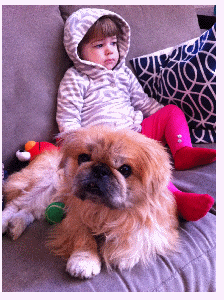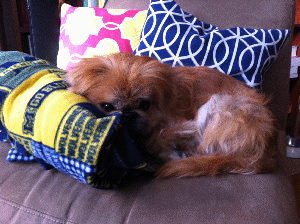 Oh my goodness, Scrumpy is doing SO well. We took him to the dog park on Sunday. He RAN and RAN, and RAN some more. He was so excited to play with the other dogs in our neighborhood, and they were so excited to meet him!

Then we heard him bark for the first time. It was AWESOME. He has the cutest little non-threatening playful bark. As if he's saying, "Hey! I want to play!"

During our little excursion, we found it difficult to call him back to us, so Henry and I took turns running after him (he thought it was a game, of course!). So we tried calling him by name. Scrumpy wasn't doing it. So we tried a few other names and then, as if by magic, he responded to Barney.

We came home and looked up the meaning to the name Barnabas and found out that it means son of consolation. It's perfect. Barnabas Scrumpy Birdseye is our first dog after Duke, and he's really providing us comfort and making our hearts even bigger as we grow to know and love him. So, we've been calling him Barney-Scrumpy. It seems to suit his goofball nature quite well!

We currently have the puppycam set up right now so that we can keep an eye on lil Barnabas while we're at work. He has been moving from couch to chair, following the sunlight as it pours into the living room. Henry and I take him on long walks in the morning to tucker him out, and then he naps and lounges in the afternoon. We've been taking turns visiting him at lunch and playing a fetch, and then all getting together again at dinnertime and then for another long walk.

At night, Barney-Scrumpy makes himself at home and climbs into bed with us. He likes the foot of the bed quite well, but he got a little scared when we had a thunderstorm the other night. So he army-crawled his way up to the top of the bed, and cuddled himself into my neck. We hung out like that until the storm passed, and then he settled in next to my side and snored himself to sleep.

Yesterday, lil Barney and I were walking around the neighborhood. He has such a happy little bounce to him. The lady from the aquarium store across the park from us came running out to give him a treat because he was "just so gosh darn cute". She invited us into the shop and Barney got to check out all of the fish who were at his eye-level. He followed them around as they swam and was very excited.

We hope to go on a few more excursions and adventures soon. Henry continues to update Duke's blog as we have soooooo many pictures and videos of him, and he'll be starting up Barney's blog as soon as we have enough pictures stockpiled up. A couple thousand follow Duke's blog, so we have no doubt that Barney will have some instant Internet fans.

As I'm finishing up this e-mail, I checked the puppycam again. Barney is now rolling around the couch on his back and snorting. He is ridiculous. It's like he knows we're watching - he continues to entertain.

I can't begin to thank you enough for allowing us to take this little furry creature into our home. It has been, in a word, delightful.



Amy
---
More Success Stories: Click here