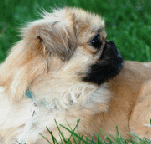 About Us
PNC Midwest Rescue is a small dog rescue organization made up of volunteers located throughout the Midwest area.

Our group is dedicated to the Pekingese breed, and our purpose is to rescue and rehabilitate abused, abandoned, neglected and surrendered dogs. These dogs are provided with the attention, care and medical treatment necessary including spaying/neutering, until a permanent home can be found.

Our organization consists of volunteers and relies on public donations to provide medical treatment for the dogs in our care. 100% of all donations go to the benefit of the animals.

Fostering:

All of our pups stay in foster homes, which consist of working families, singles, and retirees - anyone with the love in their heart to take in a homeless pet and help them find their forever home.

Fostering is so important to our group, since the more foster homes we have, the more pups we can help. We take fostering seriously; therefore you must apply with us and allow us to conduct a home visit also. These kids are precious and we want what is best for everyone involved. If you are interested in fostering, and making a difference in a dog's life, let us know!

Our Adoption Process:

Please understand that each dog entrusted to us is important and we follow very strict guidelines to make sure they are a good match for your family.


You must first fill out our adoption application.

We then check with your vet to confirm your desire to keep your pet healthy and your environment safe with preventive care in the form of vaccinations.

A home visit helps check out any unexpected circumstances that might interfere with a good match.

A donation from you is used to pay for medical expenses for current and future dogs. We are a 501(c)3 non-profit organization.

Finally we have you sign an adoption contract.

If all has gone well, we work with you to get you and your new pet together. If, after all our efforts and yours, an adoption doesn't work out we ask that the dog be returned to us and we confirm that we will take the dog back providing a cushion for both.

Each one becomes a part of our own family so we will be strict with our requirements.

Do you have concerns about all the questions we ask in our adoption application and wonder why we need so much information from you? If so, please read this article, Those darn dog rescues with all of their rules and questions... what gives?

Please email Heidi Eckers if you would like to know more about us or any of our dogs.